Is Kayak legit? How reliable is the site? If you plan your next business trip or vacation, you need the best travel site to help you. Check out this Kayak review for everything you need to know about the site.
Currently, the tourism industry is worth over $1.2 trillion. And over $800 billion worth of travel bookings is made online annually. This means that there are several online travel booking sites to help cover this considerable travel demand.
But how do you know the best site to use? How do you find the best travel deals? Travel agencies and travel comparison sites are your best option. If you've booked a trip online, you've probably encountered the travel agency Kayak. It's one of the most popular travel comparison sites and agencies on the internet.
The truth is Kayak is a legit and reliable site – it's gotten as popular as it is for a reason! But, we intend to review Kayak in-depth to determine exactly how legit, reliable, and helpful it is.
What is Kayak?
Kayak is a booking and price comparison travel website. It's a one-stop shop for excursionists looking for affordable travel deals. In essence, the website gives you price comparisons to enable you to make the best choice possible for accommodation, flights, and rental car prices.
Since Kayak partners with different websites, users can find the best deals using its platform. It eliminates the need to browse 100s of websites for the best price. The reason being the website pulls data from different websites, offering it on one convenient site.
After discovering the enormous need for a comparison travel website, Kayak as a company was started in 2004 by Steve Hafner and Paul M. English, after almost ten years, the website was acquired by Booking Holdings in 2013 and continues to grow.
Over the years, it has focused on offering the lowest travel price possible. Recently the company launched an app version of the website to improve the user experience for mobile users.
» Learn more: If you live in the US, you can visit Kayak by clicking here
» Learn more: If you live in the Canada , you can visit Kayak by clicking here
Ways to get a good deal on Kayak
There are, of course, tips and tricks for getting even better deals on travel when using Kayak.
Use search filters and price calendars
For hotels and other stays, you can select filters like:
Specific amenities like free parking and breakfast.
There's also a color-coded calendar that highlights what days might be cheaper for travel, which could help you locate a better deal if your plans are flexible. Search flexibility based on price isn't as robust as on search sites like Google Flights, which offers detailed graphs, charts and calendars, but there are still options.
It sounds like cheating, but these fares are legit. They usually occur when Kayak finds a great deal on a round-trip flight by utilizing multiple airlines. For example, the cheapest round-trip flight Kayak found from Miami to Boston was a departing flight on American Airlines and a return flight on JetBlue Airways booked through Expedia.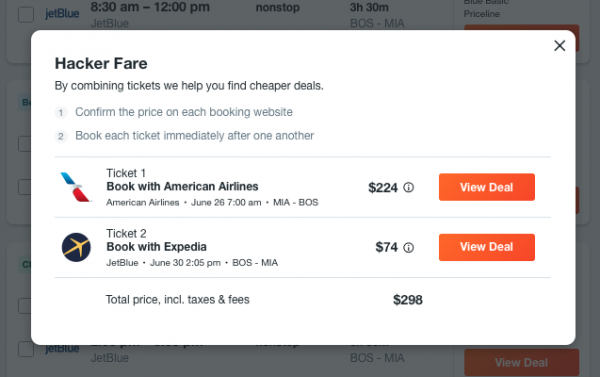 This search concept isn't original to Kayak — you can perform similar searches on Google Flights — but it's a handy one to consider if you're looking for the absolute best deal on air travel.
How Does Kayak Work?
The website has a search bar on top where you add all the relevant information of what you are searching for. After entering all the data, the search results will show you all the available flight or hotel options. You will also get price comparisons to help you make the right choice depending on your budget.
Create an account to save cash
At least for hotel bookings, travelers with a Kayak Explorer Rewards account can sometimes get access to exclusive deals. It doesn't cost anything to sign up for this loyalty program, so anyone can claim these deals, plus, those with an account can also track price fluctuations, get notified when prices drop and organize travel plans.
Most travel search engines offer the option to set a price alert and Kayak is no exception. So if you're not quite ready to book, set up an alert for your preferred travel days and destinations, and Kayak will notify you when prices go up or down to help you score the best deal. The feature is available for flights and hotels.
Is Kayak legit? Absolutely. Is Kayak a good deal? It can be. While it isn't a booking platform, it can help you find better prices for flights, hotels, rental cars and more by scanning actual booking sites across the web. Just make sure to take note of what platform or travel site you actually book with in case you have to make changes to your itinerary.
Using the site's many search and alert tools can be a smart money move for finding a good travel deal.