If you're tired of bouncing between the various travel portals, you might be able to expedite your travel booking process by using Momondo. Founded in 2006 as a Danish flight price search engine, Momondo has become a favorite site for many travelers searching for cheap flights & hotels. After reading this review of Momondo, you will have new travel research tool to find the best cheap flights, hotels, and rental cars.
What is Momondo?
Momondo has received many accolades since its creation in 2006 as being a top flight search engine. Publications including Frommer's, Travel + Leisure, and Travolution Awards have named Momondo the best travel search engine in recent years. If you've never heard of Momondo before, it just might be one of the best-kept travel secrets.
Although Momondo was founded as an independent metadata flight search engine, they were acquired by The Priceline Group in July 2017. It's free to search on momondo and they check the prices from thousands of travel providers and also compare the prices to other travel booking sites.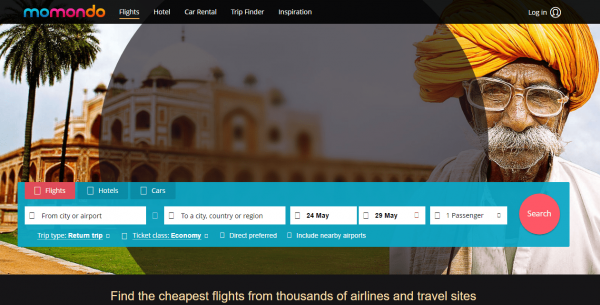 Finding Cheap Flights on Momondo
Discovering the cheapest flight options at a reasonable price is reason enough to consider Momondo.
Their colorful layout is a fresh break compared to the sometimes spartan Google Flights or Kayak. The interface is also easy to navigate and its relatively easy to filter your search results to only show the most relevant flight options.
Momondo also does an excellent job of maximizing their screen display to show all the information you need to compare prices, flight times, and carriers on a single screen.
Estimated Prices
At the top of each flight search query, you will see a series of two bar charts. The left-hand chart shows the estimated price of your departure date and the right-hand chart will display the price of different return dates.
Clicking on one bar in either chart will instantly adjust the prices for the other chart. Taller bars indicate higher prices and smaller bars signify lower prices. The gold bars are your selected travel dates.
If you have flexible dates, Momondo is possibly the easiest travel portal to view price trends.
Filter By Airline, Airport, and Alliance
Momondo includes many of the same filters that other travel search engines offer.
Three filters you might use the most can possibly be:
Search by individual airline
View specific alliances
Include (or exclude) specific connecting airports, destination airports, and departure airports
One huge selling point for Momondo is the opportunity to search Southwest flights. Most search engines do not have access to Southwest Airlines prices and this negatively skews many flight searches that Southwest serves.
All advanced filters are located in the left sidebar. Basic filters are positioned the search bar.
Click here to search the cheapest Flights.
Three Different Price Points
Momondo uses a 10-point scale that takes flight times, ticket prices, and layovers into consideration. A perfect flight package would receive a "10."
The Momondo search algorithm sorts the flight results in three different options:
Depending on the price points and quality of flights, Momondo might display some flights that cost a few dollars more because they assume you won't want to fly out at 3 a.m. and return at 11 p.m. just to save $10.
To find the cheapest prices, momondo quickly scours the prices of approximately 30 flight portals. Google Flights still holds the advantage in search speed, but, momondo wins the battle of functionality.
By clicking on the "See Details," you can view the prices of every travel portal. In addition to comparing the prices from Expedia, you will also see the prices for smaller, lesser-known portals.
Flight Insights
If you enjoy looking at analytical data, momondo offers Flight Insight on select routes. If you flight insight data is available for your route, you can click on the button located above the estimated prices.
For the Dallas-Ft.Worth to San Francisco route, Momondo has crunched over 1.1 million ticket purchases to show the most (and least) expensive carriers, travel weeks, times of day, days of the week, number of days to departure, etc.
You can click on each section of the pie chart to bring up a more detailed graph that hones in on a particular data set.
Who would have thought buying a plane ticket could be so detailed and simple at the same time.
Hotels
The second travel search option on Momondo is hotels. Since Momondo is an independent search engine (like Kayak), they don't partner with specific hotel brands to display preferred rates or exclude some hotel brands. If you want an unbiased search, this is a good thing.
Like the flight search tool, Momondo compares the prices of hotel listings on other travel sites including the big ones such as Booking.com, Expedia.com and the lesser-known sites.
One nice feature of the Momondo hotel tool is the ability to search for non-hotel lodging including vacation rentals, apartments, villas, and campsites.
If you want to stay at a hotel chain, you can filter your search results by brand and specific hotel name too.
Rental Cars
The third and final travel search option on Momondo is rental cars. For most travel sites, booking a rental car is rather non-exciting and simply part of the booking process.
Momondo does a good job of making it easy to compare the prices of all the major players and the discount agencies. One nice filter is the option to pickup in-terminal or with a free shuttle bus. And, you can also exclude suppliers you do not want to use.
Advantages of Booking on Momondo
Momondo is a solid search engine and might become your go-to for the following reasons:
Instantly compare bookings of 30 travel sites
In-depth flight search tools
No annoying pop-ups
Quick, easy-to-use interface
The search results are almost instant and there are no annoying pop-ups to see the prices from other travel booking sites. All information is retrievable on a single page with drop-down menus.
Disadvantages of Booking on Momondo
Now, here are a couple reasons why you might avoid using momondo:
Must almost always book through a third-party travel site
Unable to calculate "complex" flights
If you must book directly with an airline to earn credit card rewards points, you will still be better off using Google Flights or Kayak, and you can earn up to 5x points per $1 on an airline ticket.
Summary on Cheap Flights & Hotels with Momondo
Momondo has been ranked one of the best travel search engines for a reason. They excel at finding cheap flight prices and have a detailed yet easy-to-use website that simplifies the booking and research process. While momondo probably won't be your exclusive travel portal, it should definitely be used often for flight, hotels, and rental cars.