WorldRemit is one of the cheapest and fastest options for sending money abroad to friends and family.
Sending small amounts of money through a bank wire to recipients in foreign countries quickly gets expensive when you consider the bank's flat-rate wire transfer fees and unfavourable exchange rates.
How Does WorldRemit Work?
Sending and receiving money through WorldRemit is straightforward.
1. To start, create a free account and provide your email address (Use the promo code 3FREE along with the link to get a 100% discount on your first three transfers).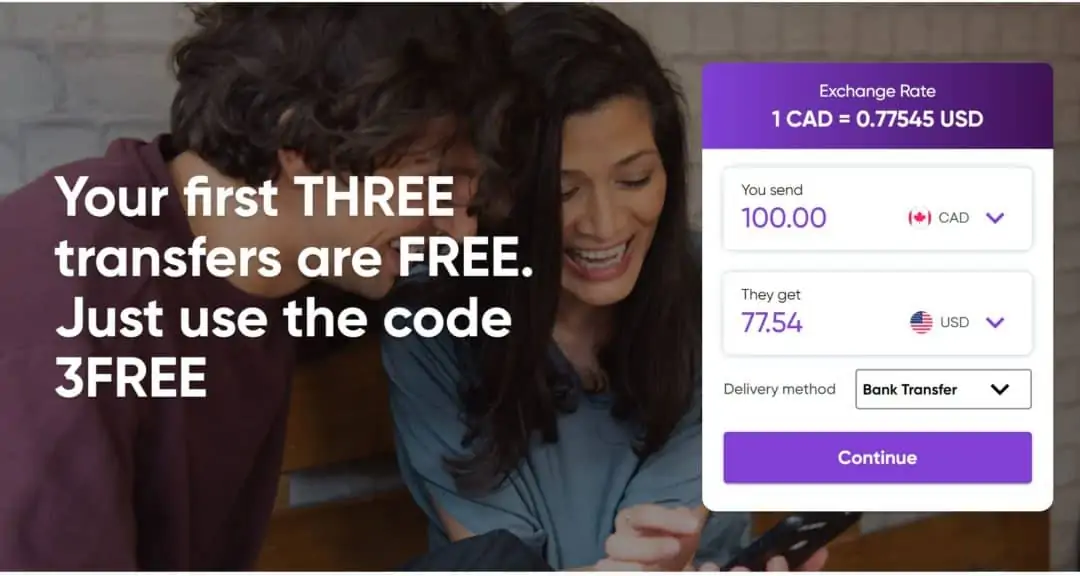 2. Select the country you are sending money to and how you want the funds to be delivered.
Delivery options vary by country and include:
Cash Pickup: This option is almost instant, and your recipient can collect the funds within minutes from an agent's location.
Bank Transfer: Money is deposited directly into their bank account.
Mobile Money: This is an electronic wallet service, and users can receive, transfer, or hold money using their smartphone.
Airtime Topup: Also known as mobile recharge, you can add talk time or data to the recipient's phone based on their network provider.
Home Delivery: Cash can be delivered to the home of your recipient (only available in Vietnam)
For cash pickups, your recipient must present a valid government-issued photo ID that shows their full name and the transaction reference they received via SMS.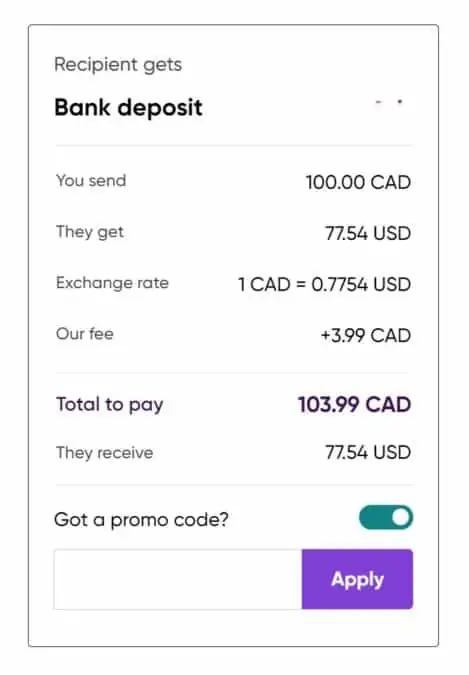 You can see the exchange rate at which funds are being converted. In this example, 1 CAD = 0.77545 USD.
Transfer fees are also shown. For my transfer, the fee is $3.99 CAD.
3. Provide your recipient's details, including their name as shown on their valid ID, location, phone number, and email address.
4. Choose a payment method to fund your transfer. The options available vary by country:
Debit card
Credit card
Interac
Poli
IDEAL
Apple Pay
Trustly
Sofort
Mobile Money
After funding your transfer, you can complete the transfer and let your recipient know to expect payment.
How To Contact WorldRemit
If you need to contact customer support at WorldRemit, you can do so by:
Live Chat: Contact their agents via the chatbox on your account.
Phone: Their customer service phone number in Canada is +1 833 596 0890 or +1 833 719 0499 (French)
For general inquiries about how the platform works, you can also check their FAQs to see whether your question has already been answered.
If you want to track your transfer, you can easily view it under the "Transfers in progress" section of your account.
Pros and Cons of WorldRemit
The things I like about WorldRemit:
Has great coverage with a transfer service to 130+ countries.
Offers a cash pickup option in many countries which means your recipient doesn't need to have a bank account.
Most transfers (90%) are completed within minutes.
Multiple ways to fund your transfer (e.g. debit card, credit card, Interac, and more).
Has a versatile mobile app with good reviews: Google Play (4.2/5 rating) and App Store (4.7/5 rating).
Good customer service.
Some downsides of using WorldRemit are:
It does not use the mid-market rate, which means your total fee outlay may be higher than you think due to markups.
The maximum transfer amount per transaction for debit or credit cards is $4,000 CAD. There is also a maximum 24-hour limit of $40,000 CAD.
You can't hedge foreign currency transactions using FOREX risk management strategies like forward contracts or limit orders.
Does not offer dedicated accounts for small businesses.
Is WorldRemit Legit and Safe?
WorldRemit has been operating since 2010 and is registered with various financial authorities and regulators worldwide.
For example, it is registered as a Money Service Business with the Financial Transactions and Reports Analysis Centre of Canada (FINTRAC)- with registration # M11556765.
Per the company, it uses strict verification processes to identify customers and has procedures in place to "prevent accounts from unauthorized login attempts and transfer fraud".
WorldRemit vs. Wise (Formerly TransferWise)
Wise uses the mid-market exchange rate when you send money abroad. This rate is more favourable than what WorldRemit offers and has no markups or margin added.
For transfer fees, Wise charges a variable fee that's based on your payment type and a fixed fee.
Wise's transfer fees appear to be higher than WorldRemit's; however, after you calculate the currency exchange markup added by WorldRemit, you get a different picture.
Using a $1,000 CAD transfer example, the exchange rates and fees by Wise and WorldRemit as of this writing were:
WorldRemit: 1 CAD = 0.76834 USD (fee: $2.99 CAD)
Wise: 1 CAD = 0.788604 USD (fee $8.58 CAD)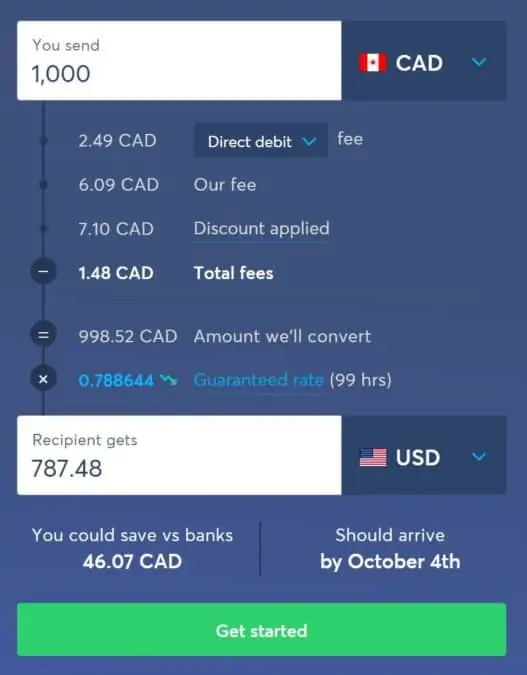 Compared to the mid-market rate used by Wise, WorldRemit had a 2.57% markup, equivalent to $20.30 USD.
After converting the $20.30 USD markup to CAD ($25.75 CAD), the total transfer fee through WorldRemit = $25.75 + $2.99 = $28.74
Conclusion = Wise is cheaper overall. It also guarantees your rate for 48 hours.
While Wise generally has a lower total transaction fee for transfers, it has some downsides you should be aware of, including:
It does not offer cash pickups. Transfers are sent to the recipient's bank account and may take longer.
Wise is available in 50+ countries, while WorldRemit operates in 130+ countries. Your recipient may live in a country where Wise money transfer is not available such as Nigeria.
WorldRemit Canada FAQs
What is WorldRemit's promo offer?
When you sign up here and use the promo code 3FREE, your first three money transfers on the platform are free.
Is WorldRemit available in Canada?
Canada is one of the 50 countries you can send money from using WorldRemit.
How can I send transfers with WorldRemit and pay no fees?
After ending your first transfer, you can copy your unique WorldRemit promo referral code and share it with friends. When they sign up and send $150 CAD or more using your code, you both receive a $30 CAD voucher you can use on your next money transfer.
Is WorldRemit Legit?
Yes, WorldRemit is a registered Money Service Business under the category of transfer of funds with FINTRAC and The Autorité des marchés financiers.
Where can I send money with WorldRemit?
You can send money through WorldRemit to over 130 countries, including India, Nigeria, Ghana, Kenya, Ethiopia, Morocco, the Philippines, and several others.
Does WorldRemit have an app?
Yes, you can download the WorldRemit app on your Android or iPhone smartphone device.
How do I receive money through WorldRemit?
WorldRemit transfer types depend on your location and include cash pickups, bank deposits, airtime top-ups, mobile wallets, and home delivery.
How much money can I send through WorldRemit?
You can send up to $40,000 CAD using debit, credit, prepaid card, or Apple Pay within a $24 hour period. If paying by Interac, the maximum 24-hour send is $40,000 CAD.